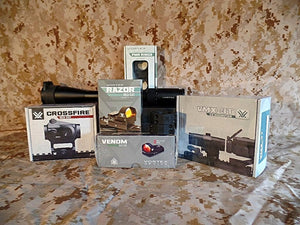 We at Design Machine carry a spectrum of Vortex products. Vortex makes great quality optics and accessories. Currently in stock we carry the "Crossfire", the "Razor" and "Venom". All red dot optics that we sell matching mounts to fit tightly into your PS90. We also carry the VMX-3T magnifier that we use with our original Flip Up Optic System.  We at Design Machine also have the ability to provide you with ANY vortex product that your interested in, just shoot us an email or give us a call for a quote!
Vortex Crossfire - For close-in work and general shooting, it's tough to beat a quality Red Dot Sight. Light weight, ultracompact, fast-on-target and durable, the Crossfire Red Dot is exactly that. At a reasonable price for a quality optic, Design Machine recommends the crossfire for anyone who needs an affordable and reliable optic. (Crossfire fits with Design Machine T-1 Mount). 
Vortex Venom - Give your PS90 even more bite with the Venom Red Dot sight. A 3 MOA dot promotes rapid target acquisition, while providing a precise point of aim—getting shots down range and on target fast. The durable, machined aluminum housing ensures the unit will stand up to whatever your up against. High-quality, fully multi-coated lens offers a clean, wide field of view. The top-load system makes changing the battery quick and painless, and alleviates the need to remove the sight when switching the power source. The power and dot intensity controls are conveniently located on the left side of the unit. At a reasonable price for a consistent and reliable optic, the Venom is a nice addition to any PS90. (Venom fits with Design Machine FF3 Mount). 
Vortex Razor - The Razor red dot is a high-end sight built for top-tier performance and incredible versatility. Fast and accurate, clear, compact, durable and dependable—the Razor red dot is a sight worthy of the Razor name. Easy accessible battery compartment on the side of the optic, no need to remove the optic to change the battery! Deadly accurate, one of the best red dot optics provided by Vortex. Design Machine is so confident in the Vortex Razor that we custom made our own low mount, so others could enjoy the quality of the Razor, while maintaining that cheek weld we're so proud of! (Razor fits with Design Machine Vortex Razor Mount)
Vortex VMX-3T Magnifier - Simple, fast, effective—the VMX-3T Magnifier will provide a quick 3X magnification for a Trijicon MRO or any T-1 style optic (such as Vortex Crossfire). The push-button design of the VMX-3T engages and disengages the flip-mount, allowing the magnifier to lock in place. If the optic is not needed simply remove it by releasing one screw. (Magnifier will hold accuracy when replacing the VMX as needed, as the zero is in the sight itself). Optics are fully multi-coated for optimal light transmission. Lightweight and tough; hard-coat-anodized machined-aluminum construction ensures long lasting durability. Internally nitrogen purged for reliable waterproof and fog-proof performance. Currently used in the Design Machine Original "PS90 FX3 Flip Up Optic System". An affordable and reliable way to make your red dot magnify or unmagnify itself by 3X. (Not recommended for use with the prism scopes).
Vortex Micro 3X Magnifier - Next level 3X magnification versatility when you need it for your red dot or holographic sight in an ultracompact, lightweight, and optically crisp package. Integrated quick-release allows fast attach/detach while camlock engages/disengages magnifier with direct pressure. Adjustable flip mount allows for right or left-handed use. Micro3x mounts at absolute co-witness, or Lower 1/3 co-witness.

*Keep in mind that ordering our optics as a bundle with their matching mount will save you a significant amount of money. You can order the bundle of the optic and mount on the corresponding Scope Mount page.
*Design Machine is a certified Vortex Dealer and has the ability to provide you with ANY Vortex product, just contact us letting us know what you want, and we'll do everything we can to make it happen!